Castor oil, or the classic beauty enhancer you should have besides marula oil
Amazing results, delicacy as well as efficiency of marula oil are unquestioned. It's one of the priciest and best oils that you should definitely have in your beauty kit, especially when your skin is sensitive, problematic and prone to irritations. It's ideal for delicate baby's skin so many moms use it interchangeably with almond oil. On the other hand, marula oil doesn't have it all and that's why you might wanna try an equally unusual oil that thousands of women can't imagine not having it in their bathroom. It's a classic oil which will never go out of style. I mean castor oil, of course! The highest-quality one is sometimes called the miracle worker. Why? What can good castor oil do and why it's unfair to say it's only good for lashes and brows?
Castor oil: phenomenon that gives incredible beauty benefits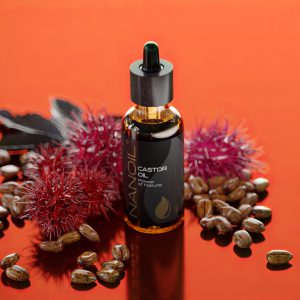 Castor oil is… unusual. It's always been extraordinary and it's hard to classify it. This substance doesn't fit into any fixed norms (e.g. the ones that group oils with respect to hair porosity) and that's why it suits all types of hair. Castor oil contains fatty acid which can't be found in any other oil. This uniqueness is valued by all hair-loss sufferers. Ricinoleic acid strengthens the hair and keeps it from falling out, directly affects the follicles and intensifies cell divisions in the hair matrix. That's what makes it one of the most brilliant oils for hair, lash and brow growth.
Not only does it stimulate follicles for longer and healthier tresses but also strengthens hair throughout its length, improves its structure and fixes damage because it is extremely similar to human keratin – the best elixir of youthfulness that nature presents to us.
Castor oil: not just for hair, lashes or brows
Even though castor oil is a hair care expert, its range of uses is much wider. It turns out the oil is able to reduce the visibility of scars, accelerates epidermal repair, brilliantly smoothes out fine lines (it's the most popular ingredient in eye creams) and it has a strongly-purifying effect. That's why both cosmetologists and blogosphere enthusiastically encourage us to cleanse skin with oils and use castor oil for OCM mixtures. Because it isn't watery and doesn't run down, it acts as an excellent nail nourishing and repairing serum (after all, nails also need keratin for repair).
Simply put, castor oil has a better conditioning effect on body and hair than marula oil. It's great to have it and use for daily care. Within a month you're going to see a positive change in the looks of your hair and the "quality" of the skin. What about the best castor oil to use?
Reviews are unanimous: Nanoil Castor Oil is the best
Nanoil Castor Oil isn't the cheapest but its price is hands down attractive and adequate to the quality. Why so? It proves to be the only castor oil so pure and free from unwanted additives, hazardous parabens and silicones. This oil may pride itself on the Ecocert seal, it's organic, natural, unrefined and cold-pressed, and thus keeps a high concentration of unique ricinoleic acid and vitamins including vitamin A and E. Nanoil works amazing, outsells and is at the peak of its popularity.
Where to get Nanoil Castor Oil?
Do you value high quality? Go to nanoil.us/castor-oil and get to know top-quality Nanoil better.